March 13, 2019
US-China-Japan Trade Landscape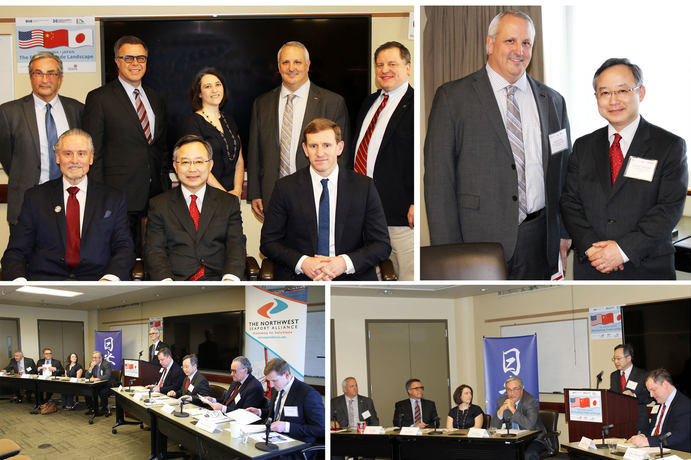 On March 13, 2019, the Japan-American Society of the State of Washington (JASSW) held a US-China-Japan Trade Talk at Fabulich Center in Tacoma. In collaboration with the Washington State China Relations Council, World Trade Center Tacoma, Port of Seattle, Port of Tacoma, and the Northwest Seaport Alliance, the event was attended by a large group of participants. It was a great opportunity to address a comprehensive recalibration of economic policy as a panel of experts examined the rising tensions in trade relations among the US, China, and Japan, and the impact to business in the Pacific Northwest.
Consul General of Japan in Seattle Yoichiro Yamada opened with welcoming remarks, followed by Port of Tacoma Commissioner John McCarthy, and Port of Seattle Commissioner Ryan Calkins. Moderator Andrew Crowder from the Washington State Department of Commerce lead the experts through a discussion on tariffs, market trends, imports, exports, and global economic and cultural ramifications. The distinguished panelists included Robert Hamilton, Governor's Advisor for Trade Policy; Dennis Frett, Executive Vice President of Toray CMA; John Melin, President and COO of Brown & Haley; and Amy Paulose, President of AMES International. The speakers introduced their companies and products then participated in an active conversation, stressing the importance of shipping, ports, strong commerce, as well as what the future might bring. Ultimately, the experts agreed that trade promotes global understanding, the actions we take will affect future generations, and we need to work as teams and come together to find solutions.
The US-China-Japan Trade Talk transitioned to an audience Q&A session and concluded with a reception. This event was a good start to learning about the volatile trade landscape among these three economies, trade policy changes, possible future sequence of events that will be affecting business in Washington, and how organizations can prepare and respond here and overseas.