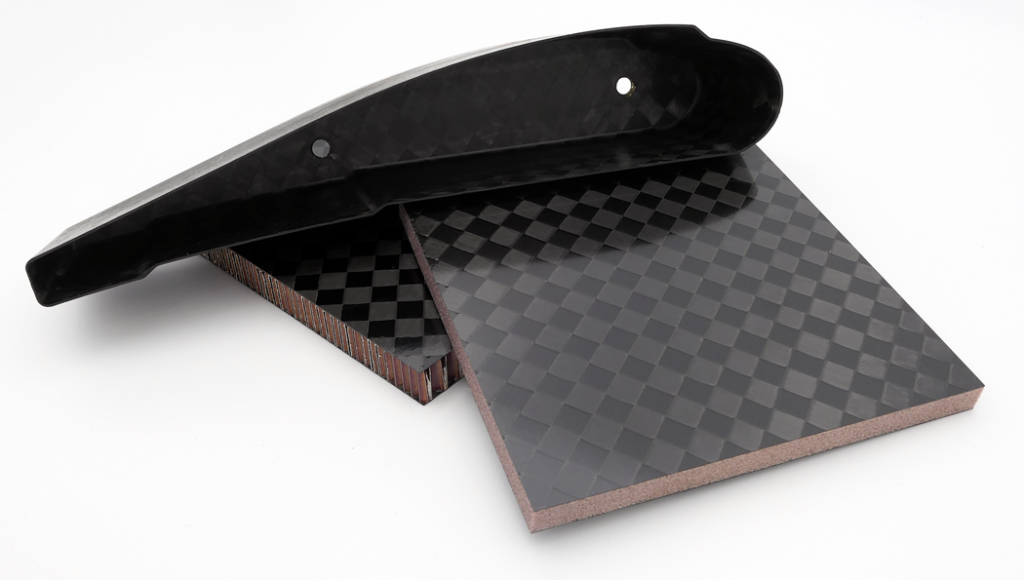 Our wide range of prepregs for aerospace and defense, industrial, sports and recreation, and automotive markets use specially formulated epoxy and BMI resin systems combined with TORAYCA® carbon fibers and other woven carbon or glass fibers.
Most of our resin systems are epoxy-based thermoset resins. This includes our G-series resins, 2510, 2511, 2700, 3900, and 3960. These epoxy matrix composites provide good strength, durability, and environmental resistance. We have a variety of epoxy formulations with hot-wet operating temperatures up to mid-300°F.
Our most recently developed formula, 4000-series BMI resins, is designed to provide high-temperature resistance with handling and curing similar to our 3900 epoxy system.
Prepreg Systems for the Aerospace Market
The 25XX and 39XX resin systems are aerospace-grade, high-performance epoxy resins designed for use in aircraft and other highly regulated industries. Details on the advantages of each system, as well as commonly available product formats, can be found in the product's data sheet listed in the table below.
Aerospace Prepreg Selector Guide
| PREPREG SYSTEM | DESCRIPTION |
| --- | --- |
| | A 250°F cure epoxy resin with a public AGATE database, the 2510 prepreg system is specifically formulated for out-of-autoclave (OOA) processing of aerospace primary structures. It has balanced mechanical properties and flexible curing capabilities. Commonly paired with T700-series standard modulus (SM) fibers. Our 2510 prepregs are well understood and widely used in general aviation structures. |
| | 2511 is a semi-toughened epoxy prepreg system that was specifically formulated for better processing when compared with 2510. Our 2511 resin system can provide good structural properties and very low void content when processed in a variety of methods, including vacuum bag only (VBO) and press molding. Commonly paired with T700-series standard modulus (SM) fibers. |
| | An epoxy resin with a cure temp range of 250°F to 350°F that is commonly paired with standard modulus (SM) fibers. Flexible processing and curing methods. Ideal for high-volume production, specifically aerospace and advanced air mobility (AAM) markets. |
| | 3900 series prepregs are highly-toughened 350°F (177°C) cure systems with a public CMH-17 database. This prepreg is available in a variety of configurations, including unidirectional tape for manual or automated tape laying applications, slit-tape-tow for automated fiber placement applications, and plain-weave carbon and glass fabrics. It is commonly paired with T800-series intermediate modulus (IM) fibers. Used extensively in commercial aircraft primary structures. |
| | The next-generation 3960 prepreg system demonstrates the next leap in high-performance aerospace materials. This system is a highly toughened, 350°F cure epoxy resin that has been optimized for increased performance and flexible curing. Commonly paired with T1100-series intermediate modulus plus (IM+) fibers, our strongest TORAYCA® fibers, this material is perfect for specialty aerospace applications where material performance is the highest priority, providing an optimal ratio of strength to modulus properties. |
| | Toughened bismaleimide (BMI) resin system for aircraft primary structures requiring enhanced strength and toughness in high service temperature environments up to 450°F. Maintains the familiar handling and flow characteristics of traditional epoxy prepregs. |
Prepreg Systems for Sports & Recreation, Automotive and Industrial Markets
G-series resins maintain the high manufacturing standards of our aerospace-grade resins, optimized for use in all industries. These resins have lower price points and high-quality surface finishes and are designed for high flow and quick cures, making it perfect for use in high-end sporting goods, automotive parts, and other industrial uses.
| PREPREG SYSTEM | DESCRIPTION |
| --- | --- |
| | A toughened epoxy system with excellent flow properties and a flexible (250-300°F) cure temperature. Our G-78 prepregs are perfect for thin-walled tube structures like fishing rods, arrow shafts, and golf clubs. |
| | A rapid cure system (290°F for 20 minutes) that provides a high-quality class A finish and excels in automotive applications. |
| | A rapid cure system with enhanced fire resistance and a high-quality class A finish. Excellent for automotive applications. |
| | An all-around resin with a flexible (250-300°F) cure, high-temperature resistance, and easy layup. Our G-94 prepregs are widely used in a variety of applications including sports, outdoor, industrial, medical, and more. |
Contact Us
We're Ready to Help
Our team can help with:
Sample Requests
Specifications
Contact Sales