July 6, 2020
Toray Composite Materials America Appoints Market Segment Manager for Urban Air Mobility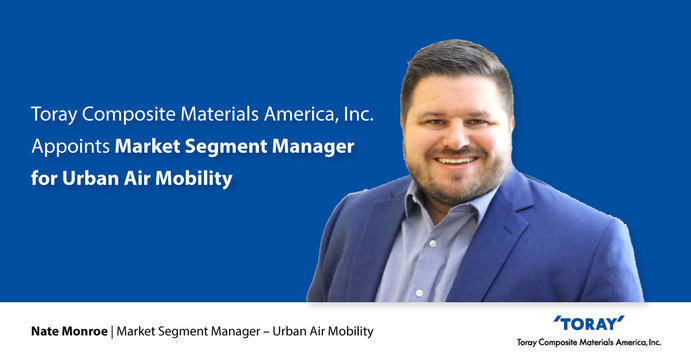 Toray Composite Materials America, Inc., a global supplier of carbon fiber and composite raw materials to the aerospace, automotive, industrial, and sports markets, appoints Nate Monroe to the position of Market Segment Manager – Urban Air Mobility.
Toray CMA is committed to providing value to the emerging UAM market with carbon fiber composite materials.  Several Toray CMA materials are positioned for a streamlined aircraft certification process with industry and FAA recognized design allowables through AGATE and CMH-17.
"We view Urban Air Mobility as a key emerging market, and it will be essential to bring together the right mix of materials, processes, and other value drivers that will help our customers succeed.  Nate's experience in both engineering and business will be critical in leading this market sector," – Tim Kirk, Vice President of Sales.
Monroe holds a Bachelor of Science in Aerospace Engineering and a Master of Business Administration in Aviation from Embry-Riddle Aeronautical University.  Monroe previously held the role of Field Technical Services Engineer at Toray CMA.