May 12, 2018
Paddles Up!!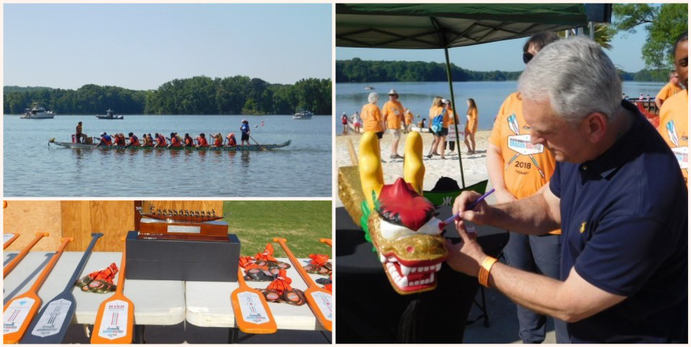 On May 12th, 2018, Toray Composite Materials America, Inc. (CMA) Decatur Plant sponsored the 7th Annual Decatur Morgan Hospital Foundation Dragon Boat Race and Festival, in order to raise donations in support of their local Morgan county hospital. The fundraiser is vital in helping the hospital treat more than 75,000 patients annually who are in need of services. This year's funds will go towards the mobile medical unit for Type 2 diabetes, hypertension, which has a $350,000 price tag. The mobile medical unit will help enhance the community outreach.
Three Dragon Boat teams entered in this year's festival, each team consisting of 25 paddlers, a drummer and helmsman, race in authentic 46-foot-long dragon boat. The boat teams and Captains were; Strokin' Aces with Captain Gay Lee Quinn (Financial & Accounting), The Dirty Oars with Captain Robert Szmyd (Spinning Maintenance), and "Don't Panic" with Rookie Captain Jerry Onwu (Carbonization Maintenance).
More than 5,000 people came to Point Mallard Aquatic Center Beach to cheer on the racers, which consisted of 65 teams and more than 1,600 paddlers participating in the daylong event. In addition to dragon boat racing, the water park featured tailgating, entertainment, cultural activities, concessions and activities for visitors of all ages.
Not only do the participating employees feel a strong connection to the racing, they feel connected to the experience. From the start of the race day, the playing of the Japanese "Taiko" drums and placing the eye on the dragon by Terry Patterson (Plant Manager) to the end of the day when winners were announced. They feel a connection with the community and are proud to be a part of the Toray family.