April 20, 2020
COVID-19 Community Relief; Personal Protective Equipment Donation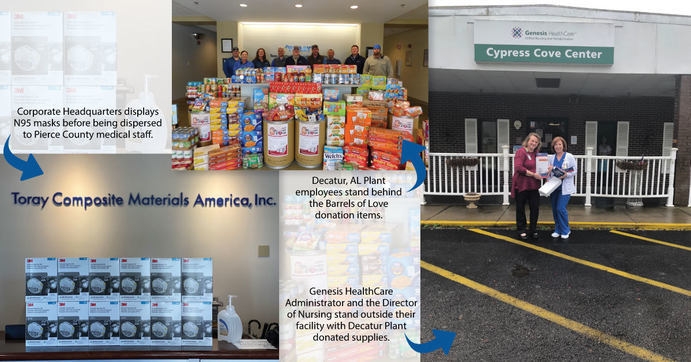 During these unprecedented times it is essential for our communities to support each other. Due to recent events there has been a distinct shortage of personal protective equipment (PPE) affecting our local and national healthcare providers.
In March 2020, CMA Corporate Headquarters Plant in Tacoma, WA was pleased to donate 240 N95 medical grade masks to help ease the Pierce County medical providers' burden. Pierce County is working hard to respond to the COVID-19 outbreak and we are grateful for this chance to support our community.
The same month our Decatur, AL Plant donated N95 masks, safety glasses, and over glasses to the nearby Genesis Healthcare Cypress Cove Center. A healthcare facility that provides short term post-acute, rehabilitation, skilled nursing, and long-term care services. Before the outbreak we partnered with the annual "Barrels of Love" and was able to collect 5,672 non-perishable food items; a record setting year! With demand high due to the ongoing pandemic, we were thankful for the opportunity to help fill our local food banks.
In April our Spartanburg, SC Plant donated PPE to the local Emergency Planning Committee in Spartanburg County. The PPE, including 200 N95 respirators and 50 pairs of safety glasses, will be utilized to offset shortages within the healthcare community.
The CMA leadership team continues to work with all information available to keep our employees and their families healthy. We have been working diligently to protect the health of our employees with masks, gloves, temperature taking, social distancing, and cleaning activities.
Together, CMA would like to send a huge thank you to medical staff and first responders!