December 31, 2019
CMA Winter CSR Activities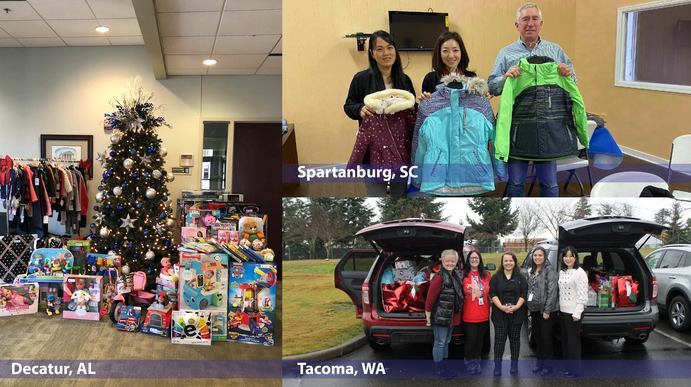 Winter of 2019, CMA participated in a variety of CSR activities in the spirit of giving for the holidays.
CMA Tacoma, WA Corporate Plant held their annual Giving Tree campaign where holiday trees were set up in both breakrooms, decorated with wish list tags from the local school district. Employees and CMA were able to provide 199 gifts for 46 children this season.
Across the States at the CMA Decatur, AL Plant, CMA partnered with local Morgan County's Families and Children Experiencing Separation (FACES) to 'adopt' 15 children for the Christmas holiday with a total of 207 gifts donated, including toys and clothing from head to toe!
During this time, both plants partnered with United Way to hold a workplace campaign.  Employees were able to choose from many United Way programs to donate to, all of which serve the local communities. At the end of both campaigns, Decatur Plant raised $25,000 and Tacoma Plant raised $15,000 for a grand total of $40,000. Tacoma Plant Employees were also able to choose between four pre-set bags: $10 Food Bag, $20 Personal Hygiene Bag, $35 Family Box, and/or $50 Holiday Meal Box, as well as monetary donations. In total 32 bags were purchased, a donation of more than 400 items!
The CMA Spartanburg, SC Plant partnered with the United Way of the Piedmont and the Spartanburg Housing Authority to ensure 58 local children in need of a coat or jacket would be warm this season. SP Plant was able to deliver 58 coats and 30 other articles for a total of 83 items for the charity!
CMA is pleased to give back to its local communities and looks forward to future opportunities to do so.