May 11, 2019
Dragon Boat Race & Festival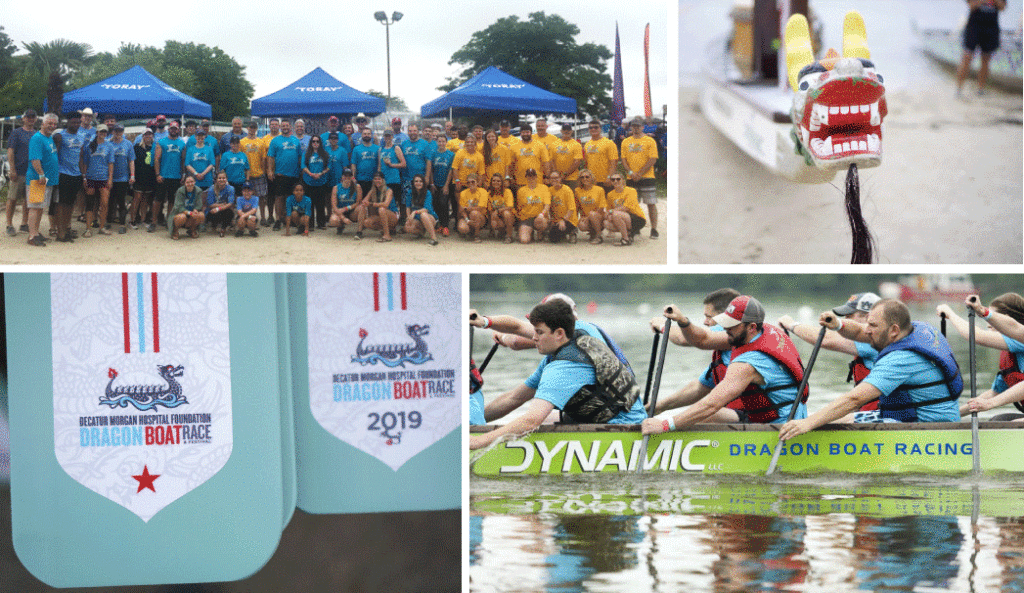 Toray CMA Decatur joined TFA with three Dragon Boat Teams for this years Dragon Boat Race and Festival. On May 11th, the Decatur Morgan Hospital Foundation successfully raised money for Educational Resources for the Child and Adolescent School at Decatur Morgan West and for Mobile Medical
A few words from the captains:
Captain Lila Harkins – Rowed Hard and Put Up Wet
This year, I was promoted from co-captain to team captain of our team, Rowed Hard and Put Up Wet.  Although our team is less competitive, I can promise we have the most fun!  We always come up with a creative team name that often pushes the envelope and even raises a few eyebrows.   We look forward to race day each year for food, fun, fellowship, cold beverages, and we even make a little time to row our boats.  Win or lose, I'm proud to be a part of a company that sponsors this event each year as a fundraiser for the Decatur Morgan Hospital Foundation.   There's nothing better than having a blast with your coworkers, friends, and family all while supporting our local hospital.  We didn't make it to the final rounds this year, but our team has previous victories of 1st and 2nd places.  We may lose a race, but you can rest assured that we will NEVER lose a party J  We are all looking forward to next year's event already!
Captain George Miller – Strokin' Aces
I have been the Dragon Boat captain for the last past 5 years. It has really been an honor to serve as captain and to represent CMA. The name of our team was the Strokin' Aces. The team Boat Festival is really a great thing for the city of Decatur. It's a really good fund raiser for Decatur General Hospital. It also creates excitement for the city of Decatur. What I really like about the Dragon Boat Festival is just seeing all of the different companies in the area that come out and support the festival. Getting to see friends and old classmates you have not seen. I just think it's a positive and impactful event for the city of Decatur, because Decatur really don't have any major events that go on besides the Spirit of America on the fourth of July. I just want to thank CMA and all my crew members for allowing me the opportunity to be their Dragon Boat Captain.
Captain Mark (Smokey) Shipley – Smokey and the Bandits
It was an honor to be given the opportunity to be captain in this year's Dragon Boat Races. It's always fun to enjoy the day with fellow co-workers and doing so in such a fun competitive event. My team's name was Smokey and the Bandits! Our boat was stacked with 27 competitive Toray employees, family, and friends. As a team, we turned in the times of Round 1- 1:26.106 Round 2- 1:22.662 for and average of 1:24.384 in which put us in the B division. There are A, B, C, D & E divisions with A being the fastest times and E being the slowest. The Bandits made it into the top 5 in our division which put us in the Finals! In the Finals we rowed a 1:22.648 and finished in 2nd place. It was a very tight final race with us getting beat by only 0:00.278 of a second. Toray teams have always represented the company well in this event, it was of great pleasure to bring another medal home!