October 27, 2020
CMA Received Boeing 2019 "Supplier of the Year" Award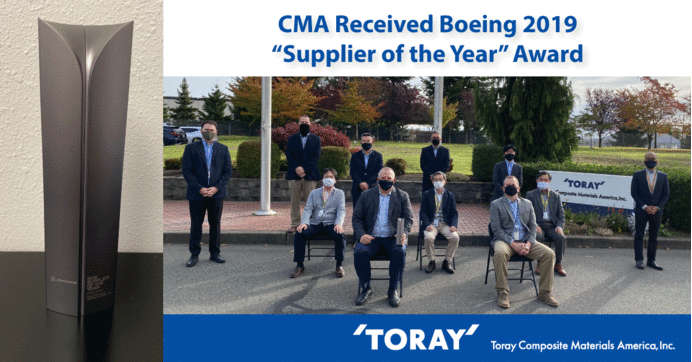 The Boeing Company's most prestigious recognition to a supplier is the "Supplier of the Year" award.  This award is given annually to 10 distinguished suppliers who achieve the high-performance standards necessary to meet customer expectations and remain competitive in the global economy.  The categories of the award are reflective of excellence in collaboration, sustainability, safety, support & services, production, outstanding performance, global diversity, pathfinder, innovation, and excellence.
A ceremony was originally scheduled for March 16th 2020, however due to current events the celebration was canceled. At a small gathering at the TA Plant, Toray Composite Materials America, Inc (CMA) executives received the 2019 Supplier of the Year Excellence award – demonstrating exceptional performance and support for Boeing's current and future production and services environment.
Toray's history with Boeing dates back to the 1970's – when Toray's new T300 Carbon Fiber was first qualified for commercial applications on the Boeing 737.  Since those early days, Toray has expanded its working relationship with Boeing – but more importantly, we have deepened our relationships and our collaboration with them on multiple strategic programs.
While COVID-19 and the associated disruption to global air travel has significantly impacted Boeing's commercial business unit in the near-term, it is precisely these times of challenge when deep and long-standing relationships must be leveraged.  Toray CMA was awarded "excellence" due to our commercial and technical interactions with Boeing that extend from the shop floor to the senior leadership of both companies.
Everyone in CMA – and our extended Toray family – made this award possible.