April 21, 2017
CMA Celebrates Earth Day 2017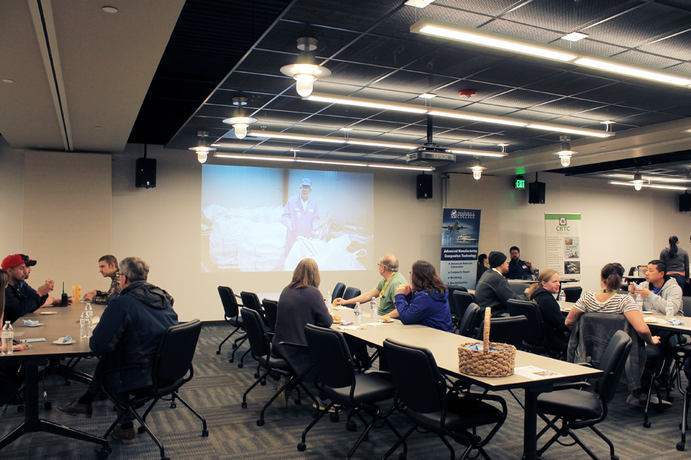 On Friday, April 21st, 2017, the annual Earth Day celebration event took place at CMA Tacoma, which showcases our recycling efforts to associates and celebrates support for environmental protection, including activities that reduce, reuse and recycle.
This year's event offered open-house style tables and giveaways hosted by local companies that handle our waste, specializing in recycling or environmentally friendly products.  An E-waste bin was featured at the event so associates could deposit unused electronics or scrap metal to be recycled; the bin was also available over the weekend after the event concluded.
Demonstrating the theme of sustainability one of the guests, Composite Recycling Technology Center (CRTC),  brought pickleball paddles made from scrap materials provided by CMA as well as additional equipment used to hold a pickleball tournament; pickleball being a sport which combines the elements of tennis, badminton and ping-pong.  In addition to the paddles, the first place and runner-up teams received medals made from recycled prepreg.
CMA will continue its recycling efforts which diverts 98% of our waste (carbon fiber, resin, solvents, paper and more) from landfills reducing the amount of greenhouse gasses being released into the atmosphere, converts the waste into energy via an incineration to electricity conversion process by local companies and reclaim solvents and paper for reuse in our manufacturing processes; and look forward to celebrating our achievements at next year's Earth Day celebration.